Saudi Arabia to buy Russia S-400 defence systems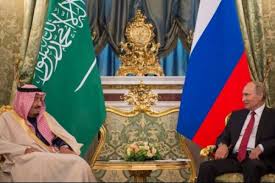 Saudi Arabia signed on Thursday preliminary agreements to buy S-400 air defence systems and receive "cutting edge technologies" from Russia during King Salman's landmark visit to Moscow, the Saudi military industries firm said.
Under the agreements, Saudi Arabia is set to buy S-400 air defence systems, Kornet anti-tank guided missile systems and multiple rocket launchers.
These agreements are "expected to play a pivotal role in the growth and development of the military and military systems industry in Saudi Arabia," Saudi Arabian Military Industries (SAMI), the Sunni state's military industries firm said.
"The memorandum of understanding includes the transfer of technology for the local production" of the Kornet anti-tank guided missile systems, advanced multiple rocket launchers and automatic grenade launchers.
"In addition, the parties will cooperate in setting a plan to localise the manufacturing and sustainment of parts of the S-400 air defence system," SAMI said.
The two countries also agreed on the production in Saudi Arabia of the Kalashnikov automatic rifle and its ammunition as well as educational and training programmes for Saudi nationals.
"These agreements are expected to have tangible economic contributions and create hundreds of direct jobs," the company said.
They "will also transfer cutting edge technologies that will act as a catalyst for localising 50 percent of the Kingdom's military spending."
Rosoboronexport, Russia's state-owned arms exporter, had no immediate comment on the agreements.