Saudi crown prince meets Queen Elizabeth, Theresa May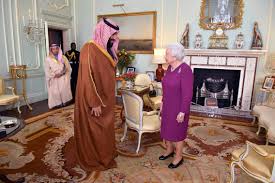 Saudi Crown Prince Mohammed bin Salman met with Prime Minister Theresa May and Queen Elizabeth as he launched his landmark visit to the UK.
Saudi Arabia and Britain will use the visit build a broader economic relationship, and improve security and defense ties.
Prince Mohammed and his delegation met May and senior ministers at Downing Street to launch a UK-Saudi "Strategic Partnership Council."
The initiative will encourage wide-ranging economic reforms in Saudi Arabia and foster cooperation on issues such as education and culture, as well as defense and security.
Earlier the crown prince had lunch with the Queen at Buckingham Palace, a rare gesture usually reserved for heads of state. He was scheduled to dine with Prince Charles and Prince William later in the day.
May defended Britain's defense and security ties with Saudi Arabia in parliament, saying close cooperation had helped save the lives of hundreds of people.
"The link that we have with Saudi Arabia is historic, it is an important one, and it has saved the lives of potentially hundreds of people in this country," the prime minister said in response to a question from opposition Labour Party leader Jeremy Corbyn.
She said that the UK has had a "longstanding and historic relationship with the Kingdom of Saudi Arabia and that will continue.
Under the crown prince, Saudi Arabia "is reforming, is changing, is giving more rights to women," May said, adding that the UK will "stand alongside" the Kingdom to deliver on his vision.
Foreign minister Boris Johnson led the welcoming party for Prince Mohammed on his arrival late on Tuesday.
For Britain, the visit is a chance to cement trading partnerships as it approaches Brexit and an exit from the European Union. It is also looking to play a key role exporting services to the Gulf's largest economy as Saudi Arabia pushes through its ambitious Vision 2030 plan to diversify the economy away from oil.
Britain is also hoping to land the stock market listing of Saudi Aramco, expected to be the world's largest IPO.
"We would like the Aramco share option to be issued in the United Kingdom and we will continue to suggest the City would be the best place for it," junior foreign office minister Alistair Burt told parliament.
Later this month Prince Mohammed will visit the United States, which also wants the lucrative listing.
The three-day UK visit is also expected to include a meeting with the Archbishop of Canterbury, Justin Welby, as well as lunch with May at the prime minister's rural retreat, Chequers, and talks with Defense Secretary Gavin Williamson.