Seven FIFA officials arrested on bribe charge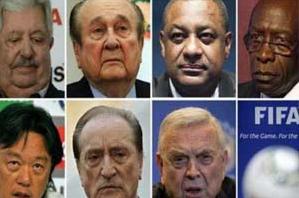 Seven high-ranking soccer officials, including two vice-presidents of world governing-body FIFA, were arrested by Swiss police on Wednesday and detained pending extradition to the United States.
The arrests were made by plain-clothed police shortly after dawn at a plush Zurich hotel where FIFA officials are staying ahead of this week's FIFA presidential election.
The Swiss Federal Office of Justice (FOJ) did not identify which officials were arrested but confirmed that FIFA president Sepp Blatter was not among them.
The New York Times and the BBC both reported that Jeffrey Webb and Eugenio Figueredo, both FIFA vice-presidents, were among the six detained.
The FOJ said in a statement that the officials were suspected by US investigators of having received or paid bribes totalling millions of dollars.
"The US Attorney's Office for the Eastern District of New York is investigating these individuals on suspicion of the acceptance of bribes and kickbacks between the early 1990s and the present day," the statement said.
"The bribery suspects — representatives of sports media and sports promotion firms — are alleged to have been involved in schemes to make payments to the soccer functionaries — delegates of FIFA and other functionaries of FIFA sub-organizations — totaling more than US$100 million."
More than 10 officials were expected to be indicted but not all were in Zurich. The New York Times said Jack Warner, Eduardo Li, Julio Rocha, Costas Takkas, Rafael Esquivel, José Maria Marin and Nicolas Leoz were also indicted.
FIFA did not make any immediate comment following the arrests but are due to hold a news conference on Wednesday.
Most of the officials are in Switzerland for the FIFA Congress, where Blatter faces a challenge from Jordan's Prince Ali Bin Al Hussein in a presidential election on Friday when the Swiss administrator will attempt to secure a fifth term at the helm.
Prince Ali, who has promised to clean up FIFA if elected to the top job, released a brief statement.
"Today is a sad day for football," he said.
"Clearly this is a developing story, the details of which are still emerging. It would not be appropriate to comment further at this time."
The New York Times said more than a dozen Swiss law enforcement officials arrived at Zurich's Baur au Lac hotel early on Wednesday, took keys from the registration desk and headed up to the rooms.