Sheikh Hasina arrives in London for personal visit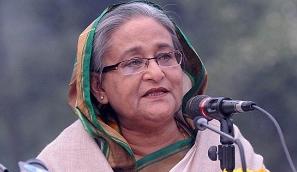 Prime Minister of Bangladesh Sheikh Hasina has arrived in London to visit United Kingdom for five day on June 12. A highly placed source at the Prime Minister's Office and the Ganabhaban said that this will be her five-day personal visit to Britain. During her visit, Prime Minister Hasina will spend time with her younger sister Sheikh Rehana's family members and undergo an eye treatment there.
Sheikh Hasina will spend most of the time in London with the newly-elected member of British parliament Tulip Siddiq, who is also her niece and grand daughter of Bangabandhu Sheikh Mujibur Rahman, and other members of Sheikh Rehana's family. Sheikh Hasina, who is also the president of Bangladesh Awami League (AL), will attend a reception in London on June 14 to be accorded to her by the UK chapter Awami League. The UK chapter AL is also likely to honour Tulip during the reception ceremony. The Prime Minister is scheduled to return home on June 17, according to a news agency.