'Shop at Your Best' at Dubai Shopping Festival 2014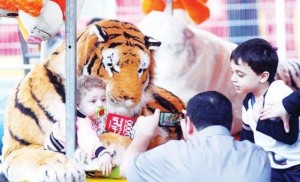 Kilos of gold up for grabs, luxury cars to be won, millions of Dirhams in cash prizes, fashion shows and shopping experiences at discounted rates! The Dubai Shopping Festival, the biggest shopping and entertainment extravaganza in the Middle East that started in Dubai on January 2 is rolling with visitors from the Kingdom of Saudi Arabia and other parts of the world.
Shoppers can enjoy discounts at 70 malls and over 6,000 retail outlets across the city during the festival. The DSF has drawn over 47 million visitors since its launch in 1996 and has generated over AED 114 billion for Dubai's economy.
DSF 2014 will give away over $27 million worth of prizes including luxury cars, gold and cash.
Tourists from GCC countries, mainly from Saudi Arabia, are flocking to Dubai. "It is the perfect start to the year. As always, we are witnessing a tremendous response from GCC travelers for the DSF with the largest turnout from Saudi Arabia followed by Kuwait, Qatar, Oman and Bahrain," Laurent A. Voivenel, CEO, Hospitality Management Holdings (HMH) said.
"It is definitely one of the busiest periods for all our hotels in the city such as Coral Deira – Dubai, Coral Al Khoory Hotel Apartments – Dubai, Corp. Executive Al Khoory Hotel – Al Wasl and EWA Deira – Dubai which are running absolutely packed houses with Saudis accounting for 40 percent of occupation in some hotels. DSF gets better every year and this year with a fabulous 'Shop At Your Best' theme, it is no doubt pulling in bigger crowds," Voivenel said.
In addition to great sales, discounts and promotions, the event has scheduled a series of fashion events with fashion and lifestyle ranking high on the popularity charts of DSF.
Visitors may enjoy a vertical catwalk at Burj Khalifa on January 20. This will be the first vertical catwalk in the world's tallest building. The attention-grabbing DSF Vertical Catwalk will take off from lofty heights with the Burj Khalifa, and the Dubai Mall offering the perfect backdrop.
Another important event is the Fashion Squad, which is currently going on at various locations in Dubai. The DSF Fashion Squad – a team of renowned fashion experts and bloggers will pay homage to Dubai's street style this DSF on various social media channels. The squad will roam the streets and malls, hand-picking the city's best dressed who will win shopping vouchers from several participating brands.