Sweden Opens Palestinian Embassy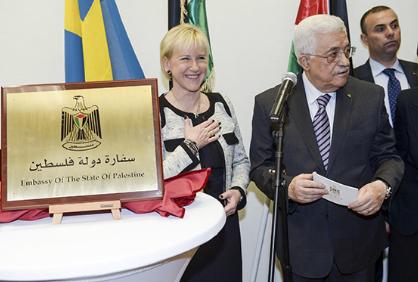 Sweden became the first Western European country on Tuesday evening to open a Palestinian embassy as Palestinian Authority President Mahmoud Abbas arrived in Stockholm.
Abbas, who is visiting the Nordic state for the first time since it became the first European country to recognize a "State of Palestine" in October, called on other countries to follow Sweden's lead.
He said that further unilateral efforts by the Palestinians would help serve the future of peace talks, not replace them.
Abbas said he and fellow Palestinian leaders were "looking forward" to resuming negotiations with Israel, Palestinian WAFA news agency reported.
"We are extending our hands to a just peace based on the international legitimacy resolutions," he stated during a press conference with Swedish Prime Minister Stefan Löfven.
"I am reaching out to Israel because we cannot achieve peace if we don't sit down for negotiations," Abbas added.
Löfven stated that now, with recognized statehood, the Palestinians would be held to new standards. "According to our view, Palestine is from now on a state. Therefore our expectations from Palestine and its leaders are going to grow," he stated.
The Swedish leader took the opportunity to announce a Krona 1.5 billion ($180 million) aid package to the Palestinians. The funding is to be given in installments through 2019. The hope is that the money will be used to advance human rights, gender equality and fight corruption.
Löfven called on Israel and the Palestinians to be "constructive" and uphold good relations with one another. He said both sides must be "ready to compromise" when it comes to peace.
The announcement of Sweden's recognition of "Palestine" in October set off a firestorm of condemnation from Israel. Israel's Foreign Minister Avigdor Liberman and Swedish Foreign Minister Margot Wallstrom exchanged verbal jabs, with Liberman saying that the peace process was not as easy as building IKEA furniture.
Sweden's recognition led Israel to withdraw its ambassador from Stolkholm temporarily. On Thursday, Israel said that Wallstrom, who was scheduled to visit the country, was not welcome for an official visit.
According to the PA, some 135 countries have recognized a "State of Palestine," several of them EU members.