Turkey celebrates Republic Day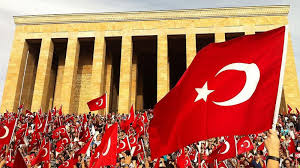 Turkey is celebrating its Republic Day and 94th anniversary of the proclamation of Republic of Turkey on Sunday.
Turkish President Recep Tayyip Erdogan, Prime Minister Binali Yildirim and other high-level state officials visited Ghazi Mustafa Kemal Ataturk's mausoleum (Anitkabir).
Writing at official Anitkabir memorial book, Erdogan said the spirit which brought victory to Turkish War of Liberation and gave life to the republic is alive today as it was before 94 years.
"The resistance which passed into history as July 15 epic is the embodiment of this spirit and will," Erdogan stressed.
Fetullah Terrorist Organisation and its U.S.-based leader Fetullah Gulen orchestrated the defeated coup of July 15, 2016 in Turkey, which left 250 people martyred and nearly 2,200 injured.
Celebrations of Republic Day are ongoing in many cities of Turkey.
Meanwhile, Google also marked the Republic Day.
The search engine's Turkish home page showed a Turkish flag and the Google word in red color, the color of the country's flag.