Ukraine Muslims hold workshop on Hijab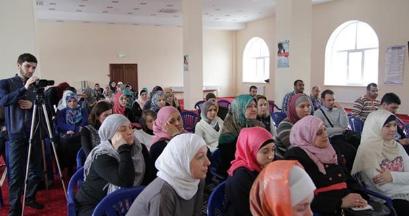 Oksana spot the public invitation to a workshop dedicated to the International Day of Hijab in Internet. She says it is the first time she has approached Islamic culture so close. The first encounter turned out to be very positive.
Muslims make up around 4 percent of the Ukrainian population. A woman in a hijab is a rare sight on Kiev streets. Sarzha says in the very beginning of wearing the headscarf she was afraid that it may impact the attitude of people towards her. But later the concerns passed. Now she is studying in Kiev college for foreign relations to become a diplomat.
The zest of this workshop was a tour into the Ukrainian folk headwear. The specific characteristics of the headscarves vary from region to region. Oksana, the historian of the folk costume, says the tradition of covering hair of married women is deeply rooted in the Ukrainian culture.
After the training all the girls and women were offered a chance to become models and experience how it feels to wear a Muslim or a folk Ukrainian headscarf.
Participants of the workshop say the hijab is a decision based on faith. They believe It does not stop women from having a modern lifestyle.