5 exotic summer vacations for a steal this year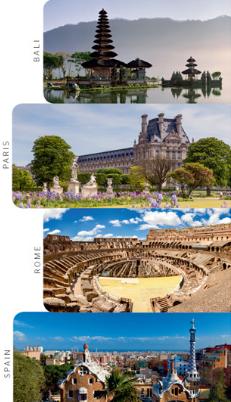 Travel experts say this year is one of the best times in modern history to explore the world and visit distant dream destinations.
Exotic locations like Bali, Rome and Sydney might be at the top of your bucket list, but this year, experts say they should also be at the top of your summer vacation list. Today's unusually strong dollar — and the dirham, since it's pegged to it — is allowing you to get a lot more for your money when you travel abroad. Travel experts say this year is one of the best times in modern history to explore the world and visit distant dream destinations.
Here are five amazing vacation destinations that are attractively priced right now:
Bali:
Bali is home to beautiful beaches and unique spots like the Sacred Monkey Forest Sanctuary. Seeing these amazing locations has never been more affordable. Island lovers can now save 50 to 60 per cent over last year's hotel prices in Bali. As an example, last year the Bali Wood Property at Aston Kuta Residence was going for $206 per night and now it's practically a steal at around $85 per night.
Paris:
One of the most expensive cities in the world isn't as steep as it used to be. For example, the four star Hotel Astra Opera — Astotel — which went for $249 last year, is currently listed at $149. You can even book luxury hotels in Paris for up to 65 per cent less per night than last year. The famous L'Hotel Paris, which travellers last summer booked for $832 per night, can now be booked for just $298. With places like the Louvre Museum and the Jardin des Tuileries in its back pocket, it should come as no surprise that Paris ranks highly among art and design lovers. The current low hotel room rates in Paris mean you can afford to splurge at luxury restaurant hot spots like L'Atelier de Joel Robuchon during your stay.
Rome:
A popular destination for foodies and home to the Vatican, Rome's appeal to tourists is universal. Staying in the city is now more affordable than ever. Rome's current hotel room rates are up to 66 per cent lower than last year's prices. These savings mean you can extend your vacation and get even more scoops of gelato in Rome's stunning Centro Storico neighbourhood.
Spain:
The dollar's strength translates into great deals across Spain, the perfect destination for people who love to experience local culture. Take in all the sites, like La Sagrada Familia and Park Guell, while saving on hotels in Barcelona. You can also travel south, to the municipality of Marbella, home to some of the most serene beaches in the world. You can find amazing deals with some properties in Marbella going for as much as 41 per cent less than they cost just a year ago.
Sydney:
Australia is a dream destination for adventurers. You can take three different climbs up to the top of the Sydney Harbour Bridge for breathtaking views of the city and the Blue Mountains make for an amazing day trip. Normally, Sydney's sky-high costs make it a tough sell for most travellers, but today's exchange rates mean this summer is a great time to head down under. Dozens of four star hotels, including The Menzies Sydney, Castlereagh Boutique Hotel and Mercure Sydney are now going for less than $120 per night. Even five star hotels, like the Radisson Blu Plaza Hotel Sydney, that were going for $300 per night last summer are now going for $185 per night which represents a 38 per cent saving.While travel deals are red hot, it still pays to shop around for the best deals. Gogobot, for example, has price comparison tools that show you the best deals across a number of different sites including Expedia, Priceline and Booking.com. Now is the perfect time to visit international destinations you've always dreamed of.