British High Commissioner welcomes the England Disability Cricket Team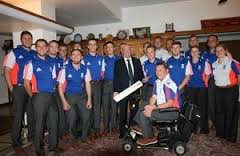 Today British High Commissioner Robert W Gibson CMG welcomed  the England Disability cricket team to his Residence. The team arrived in Bangladesh on 28 August to participate in the first multinational Physical Disability cricket tournament, which will take place between (2-10) September, 2015.
The High Commissioner wished the teams the best of luck for the tournament. He said "I am delighted to have the England Disability cricket team here in Dhaka, their first official visit to Bangladesh.  People with disabilities face challenges every day, but through sport one can collectively address and overcome obstacles and show the world that disability is not a barrier to achieving dreams.   The teams competing over the next two weeks will be like any other – passionate, committed and determined to win. This cricket tournament is another big step towards, I hope, Bangladeshi paralympic athletes competing on the world stage in Rio 2016.''
England Cricket Board's Head of Disability Ian Martin said ''I would like to thank everyone involved for their commitment, drive and vision to this initiative which will serve everyone involved in disability cricket for the future growth of our sport. Bangladesh is rightly renowned as a cricketing hotbed and there is huge potential for growth in disability cricket in the country. We're fully supportive of the BCB and ICRC's plans and we trust their initiative will encourage more cricket-loving nations to develop their own disability cricket programmes and national squads.''
During their visit to Bangladesh, the English cricket team are being hosted by the Ministry of Youth & Sports of Bangladesh government and supported by the International Committee of the Red Cross International (ICRC), who also organised the tournament.  The team is also scheduled to visit the Centre for the Rehabilitation of the Paralysed in Savar, which receives funding from UK aid.